The department hot forging was launched in 2015 allowed to increase our range of products with tees forged to size DN300. Thus we joined the ranks of the few companies in the world capable of carrying out each tee (each wall thickness of the thinnest to thickest) in the range of DN15-DN300. Materials from P235GH up to P91, inclusive. Heat treatment of higher quality grades is performed in our own furnaces with recording of the entire process.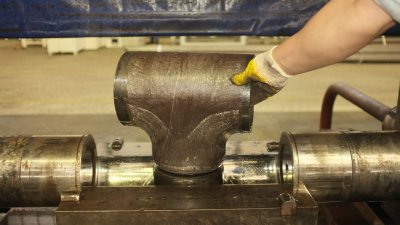 The only line of presses for hydroforming in Poland allows for mass production of top quality tees at competitive prices. The production range from DN 15 to DN 300.

One of the more interesting product launched in collaboration with scientists from AGH University of Science and Technology is Y type tee (WYE steel tee) used in the energy sector. Sophisticated technology combined with modern CNC machines, lets us achieve high quality products and reasonable prices. We are the only manufacturer on the market of such quality products. Export customers are also impressed by the quality of such a difficult product as forged tee with parallel arms.