Production is organized in three departments: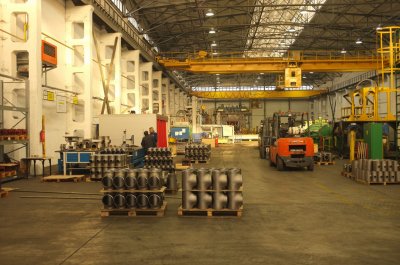 1. Production department I (reducers, end caps, flanges and welded production).
2. Production department II (2D, 3D, 5D elbows and induction bends).
3. Department of forging and hydroforming (tees and forged parts of pipelines).
All departments operate in closed process line. A pipe or a forged rod constitute the input material, and the output is the finished product with research (according to Customer's order).
We manufacture products in accordance with the guidelines of standards harmonized with the New Approach Directives. The set of standards related to PED 2014/68/EU determined the list of steel approved for use in pressure equipment in accordance with applicable regulations. These steels are in our production program: P235GH, P245GH, P265GH, P280GH, P355NL1, 16Mo3, 13CrMo4-5 and other types harmonized with the Directive. We produce short smooth bends, side bends, reducers, flat flanges, neck flanges, loose flanges, end caps.
In our program of delivery you can find as well elbows, tees and reducers produced according to Standards ASTM B.16.9 meeting the requirements of the material standards: ASTM A234 (carbon and alloy steels for moderate and high temperature service), A420 (carbon and alloy steels for low temperature service), A403 (stainless steels) and MSS SP-75 (low-grained steels for the construction of oil and gas pipelines).

Tasta Armatura is also a very large wholesaler of fittings and pipeline connectors. Intensive trading allows for highly attractive prices at cooperating suppliers, which translates into competitive prices for our Customers. High availability of our products in the central warehouse located in Stalowa Wola and in warehouses in our branches, allows in most cases for rapid execution of our customer's orders.

Furthermore, we offer a wide range of seamless steel tubes supplied directly from the largest manufacturers in Europe. This product is available for immediate delivery in our central warehouse in Stalowa Wola.